The following blog entry started out as a comment on a Facebook post by Tulsa Opera, asking the question "What do you think about opera companies producing musicals."  A link is at the bottom.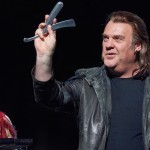 The most concise answer I have ever heard to the ongoingly and often fiercely debated question "what's the difference between opera and musicals" was this: "If it makes money, it's a musical. If it loses money, it's an opera." Beyond the humor, this clever aphorism reveals an important truth: the difference between opera and musical theater is more an economic one than artistic. It has to do with the business of producing shows and the nature of the value generated through art in each case.
In the US, operas are virtually always produced by non-profit organizations, while the majority of professional productions of musicals are presented by commercial corporations. A commercial corporation aims to generate enough ticket sales to recoup its costs and make a profit. A non-profit opera company typically earns less than 50% of its budget from ticket sales, and the rest is covered by private and public donations.
This leads to two conclusions:
-There is enough demand for musicals to make money from ticket sales, but there is not as much demand for opera.
-In spite of the insufficient demand, society apparently deems opera, as well as symphonic music, ballet, certain types of theater etc. necessary and beneficial enough to grant them an economic advantage, a "leg up" on the competition.
These conclusions do not speak to the intrinsic value of the art itself, but give us a clue of how the two types of producing organizations use art to generate economic value, and therefore what should guide their choices.
The ultimate purpose of all art is to illuminate the human experience (in addition to entertaining, of course) and both musicals and opera achieve that to some degree. Non-profits, however, in return for the economic advantage they receive from the state, have additional responsibilities. In the case of opera companies, that responsibility is to take the quest for artistic meaning and depth beyond the limits of commercial theater.
With all this in mind, I would propose that the frequently asked question "Should opera companies produce musicals" might be best broken down into some more specific components, such as "Which opera companies should produce musicals, when, how and why?"
WHICH: Not all opera companies are the same. Large international companies like ENO, the Met or the Chicago Lyric have very little in common with regional US companies, and therefore the latter should be very careful in trying to emulate the former. While all opera companies, large and small, aim at success through generating excitement, the big companies are able to invest up front in lavish productions, big name singers and state of the art marketing campaigns, which though they don't guarantee artistic success or full houses, they nevertheless give blockbuster companies an initial boost, and can make the venture look like a success even when it's not. For cash-strapped regional companies, even licensing fees alone for a Sondheim or an R&H title can be a daunting budget item, not to mention all the other production and technical requirements that come with some of the larger musicals.
WHEN: The Lyric Opera of Chicago, which is in the fourth year of what appears to be a successful R&H initiative, is doing the musicals outside its main season. The Lyric's eight regular productions have remained squarely within "opera territory" with the musical as an add-on. Central City Opera, on the other hand, which included a musical in its mainstage season, abandoned its initiative after two seasons, which may suggest that its strategic objectives (presumably ticket revenue, new attendees etc) were not met. In the case of a regional company that only produces three or four titles per season, taking up one slot with a musical can be a turn-off to the dwindling but important contingency of subscribers and opera lovers, who might not see the point of going to the opera for a show that is typically available in touring productions, on TV, or even a local high school.
HOW: Many of the core capabilities required in musicals (sound design, extensive dialogue, triple-threat performers etc.) are not built in to opera companies, since opera typically focuses on the appeal of super-human voices and superb musical values.  Producing a musical is undoubtedly an extremely valuable learning experience for an opera company, but can also be strenuous, costly, and may result in shows that are underwhelming compared to those produced by a Broadway company.
WHY: Going back to the idea of artistic mission, an opera company's goal should be to present a season that constitutes a unique, authentic and compelling artistic proposition, which of course should be also fiscally responsible and market-oriented. If a case can be made for Sondheim, R&H, L&L, Loesser, or even Lloyd Weber having a place in such a season, then by all means yes! If, however, the idea to include a musical in the season is simply motivated by "Well, Rigoletto didn't sell, let's try The Sound of Music" then not only is the artistic proposition weak, but it entails significant financial risks.