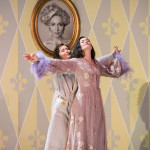 On May 19, 2014, this review of a production of Der Rosenkavalier, Glyndebourne, East Sussex, UK-review appeared in the Financial Times, prompting an international avalanche of protest and kindling a critical discussion about the relevance of singers' physique to the operatic art form.  Below are some of my thoughts on the topic.
Most of Opera's perception problems we have brought onto ourselves. For too long we have ridden the coattails of the entertainment industry and promoted opera on terms which are not sustainable.
Marketing professionals, and often we, Artistic and General Directors, more anxious to sell a ticket now than to sell ten tickets ten years from now, promote opera on whatever we can grab onto: Name recognition, popular tunes, fancy scenery, directorial "concepts" and, as of the last ten years or so, singers with movie star looks and ballet dancer bodies.
Sexy-looking girl on the brochure? Always.
Baritone with his shirt off on the poster? You bet.
Gratuitous sex and nudity on stage? Yeah baby.
Can you blame the public for thinking that's what it's about?
I have no solution. If we don't sell tickets today we won't be here in ten years. But if we want to help change things perhaps we should put a little less emphasis on the barihunks and talk a little more about what opera is really about: great stories, emotional intensity and deep humanity conveyed in music composed by geniuses and performed by super-humans.
The only problem is that to get the effect you must have an open mind and be able to focus on something other than yourself for a couple of hours . And, unfortunately, open minds and focus are not the zeitgeist.